TALIM - Annual Publication
Talim (Vol. 6, Published in Ju.....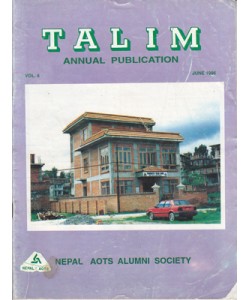 Download Now! 12.8 MB
Cover Page : YAMAMOTO TALIM GHAR
Yamamoto Talim Ghar, located at Koteswor, Ring Road, Kathmandu is the Nepal AOTS Alumni Society's own building built on a land space of 160 sq.m. The three storey building having a total floor area of 224 sq.m. has facilities of an audio visual room, a meeting room, a training hall, a library, a reception / lobby and a pantry.
The NAAS building was formally inagurated by Mr. N. Yamamoto, President, AOTS on 8th December 1995 during the 4th SAFAAS Convention.
Editorial Board :
Editor:
Members:
Kiran Shakya
Ramesh Man Singh
Ballav Pradhanang
Prakash Suwal
Asta B. Shakya
---
943 326