TALIM - Annual Publication
Talim (Vol. 12, Published in J.....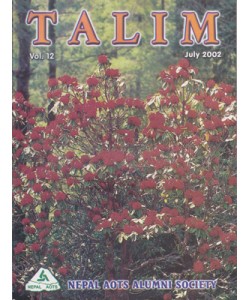 Download Now! 18.7 MB
Cover page :
Himalayan Rhododendron flowers at full bloom : Rhododendron arboreum, or Nepalese Rhododendron (locally known as Laligurans) is a national flower of Nepal. These flowers blooming during March and April found at altitudes between 1500 m. to 3600 m: Symbolizes fresh beginning, vitality and pureness. This picture was taken at Daman, Nepal at an altitude of 2,300 m. next to the Tribhuwan Highway.
Publication Committee:
Kiran N. Shakya
Ramesh Man Singh
GorkhaThapa
Brajesh Vaidya
---
1147 191