TALIM - Annual Publication
Talim (Vol. 13, Published in J.....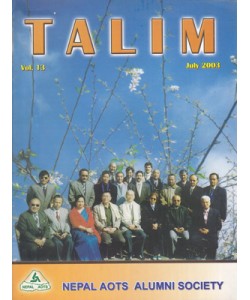 Download Now! 15.3 MB
Cover Page :
Capturing the moment / NAAS executive committee members and advisors with Mr Shuji Ogawa, President, Association for Overseas Technical Scholarship, Japan. The photograph was taken at the NAAS center on 7th February 2003. The President visited Kathmandu to address the august gathering at the opening function of the Nepal-Japan Training Program on "Design and Management of infrastructure Using Information Technology".
Publication Committee:
Ramesh M. Singh
Prakash Suwal
Ashok Aryal
Binod Banskota
Kiran N. Shakya
---
182 13