TALIM - Annual Publication
Talim (Vol. 15, Published in J.....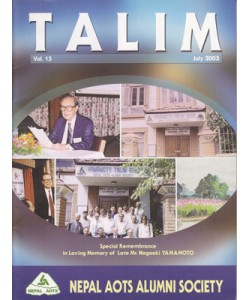 Download Now! 17 MB
Cover page :
Clockwise: Yamamoto Talim Ghar, Koteshwor, Kathmandu, Painting of Mr. Nagaaki Yamamoto, group photograph of Mr.Yamamoto with executive members of NAAS, Mr. YAMAMOTO during the inauguration of Yamamoto Talim Ghar and Mr. Yamamoto addressing conference.
Publication Committee:
Ramesh M. Singh
Braiesh Vaidya
Prakash Suwal
Binod Banskota
---
1222 187