TALIM - Annual Publication
Talim (Vol. 9, Published in Ju.....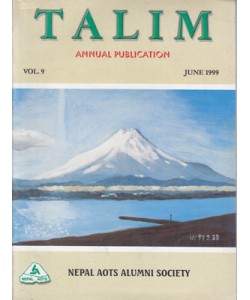 Download Now! 23 MB
Cover Page : FUJISAN
Fujisan, 12389 ft. - the breath-taking famous mountain of Japan, also knowt as Mt. Fuji, captured on canvas through the artistic strokes of Mr. Nagaaki Yamamoto, Advisor and immediate past president of AOTS, Japan. This beautiful water colored painting is a parting gift of Mr. Yamamoto who had personally presented it to NAAS during his last visit to Nepal on 2nd August, 1998, a few months prior to his retirement as president of AOTS.
Publication Committee:
Braz Vaidya (Coordinator)
Members
Kiran N. Shakya
Ramesh M. Singh
Bijaya Manandhar
Binod Baskota
---
171 12